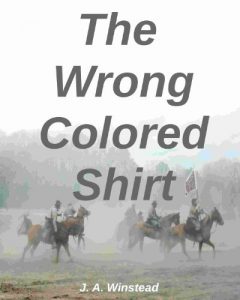 Reviews for The Wrong Colored Shirt
5.0 out of 5 stars
Can't Put It Down!!!
By Scott on June 10, 2014
If you're hungry for history, especially the Civil War, The Wrong Colored Shirt will definitely satisfy your appetite. Once you start reading about Wells' fast and furious journey to manhood you won't be able to put the book down. The attention to detail that Mr. Winstead writes is so good that if you were able to read it with your eyes closed, it would seem like you were there. The battle scenes that he paints are so vivid you can almost smell the gunpowder. AWESOME!!!! Can't wait to see the movie!
5.0 out of 5 stars
What a read!
By Ashley on August 11, 2014
I knew I was going to love this book from the very first page! I myself love reading books set in any war era, and this one might be one of my new favorites! It is set at a wonderful reading level so that everybody can enjoy what a marvelous read this is! I recommend this book to anybody who likes war genres or is just looking for a good read! Keep writing more Mr. Winstead!
5.0 out of 5 stars
Amazing!
By Daniel on November 29, 2014
It's amazing what Mr. Winstead is able to write. Great job can't wait for the next book!
5.0 out of 5 stars
The Wrong Colored Shirt
By Key Printing,Inc on June 20, 2014
A well written and an action packed page turner. I wish could have gone on a couple more hundred pages. A real enjoyable read.